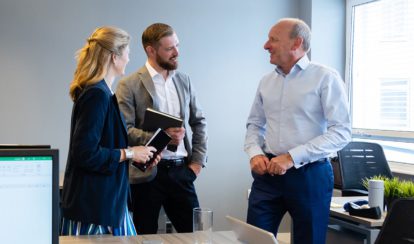 Our Team
We are a small and focused team of investment professionals with over 50 years of experience of investing in the UK lower-mid market. ​ We are supported by a highly experienced Advisory Panel from the corporate, high growth, asset management and advisory industries.
Advisory Board
Bestport has an accomplished Advisory Board of experienced industry practitioners and entrepreneurs who provide advice, mentoring and sector expertise to Bestport and our investee companies.
Mark Blandford

Mark is the founder and former Chairman and CEO of Sportingbet PLC, a leader in book-making and online gaming. He was voted AIM entrepreneur of the year in 2002. Mark is currently Chairman of Double Diamond Gaming, Condor Properties and FSB Technology in addition to being a Non-Executive Director and investor in several media and gaming businesses.
Tim Duffy

Tim has over 30 years' experience in telecoms and technology companies, and was the Co-founder and CEO of MeetingZone which was sold to GMT Communications Partners in 2011. Tim has been Chairman of Private Equity backed business Essendex and is currently a Non-Executive Board member at MeetingZone.
David Hall

David is an engineer with over 25 years board level experience in the Building Products Industry, retiring from the role of Chief Executive Officer of Polypipe Group plc in October 2017. He led the group for 12 years through two Private Equity buy-outs, ultimately floating the company on the LSE in April 2014 and continuing to grow the company resulting in it joining the FTSE 250 index in January 2016. David has considerable M&A experience and is currently an NED for the Nasdaq listed Industrea Acquisition Corp, along with some other UK private companies where he is also an investor.
Will Hobhouse

Will is a serial entrepreneur and investor. His Chairmanships have included Jack Wills, Le Pain Quotidien, Heals and Explore Learning. He was previously CEO of Whittard of Chelsea and Tie Rack.
Michael McLintock

Michael is currently Chairman of Associated British Foods plc, Chairman of the Grosvenor Group and a Trustee of the Grosvenor Estate. Michael retired as chief executive of M&G in 2016 having  joined the company in 1992 and been appointed chief executive in 1997. In 1999 he oversaw the sale of M&G to Prudential plc where he served as an executive director from 2000 until 2016. He has in-depth knowledge of the financial sector and proven experience of growing businesses.
Chris Spanoudakis

Chris has over 30 years of Senior Management, Investment Banking and Professional Services experience. His current roles include Chairman of parking enforcement specialists ParkingEye Group backed by Macquarie and MML Capital, Chairman of education provider Oxford International Group backed by Bowmark Capital, and Chairman of specialist care provider Oracle Care backed by Bestport. His career began with Deloitte, before joining PwC's IB division where he was fast tracked into the Partnership in 1997. He later founded Equita Corporate Finance in 2003 to serve the healthcare and education sectors, and completed over £2.5bn of transactions. Other past roles include Chairman of Regard/ACH Group, NED for Grosvenor Health, and NED for Avanta Enterprises.